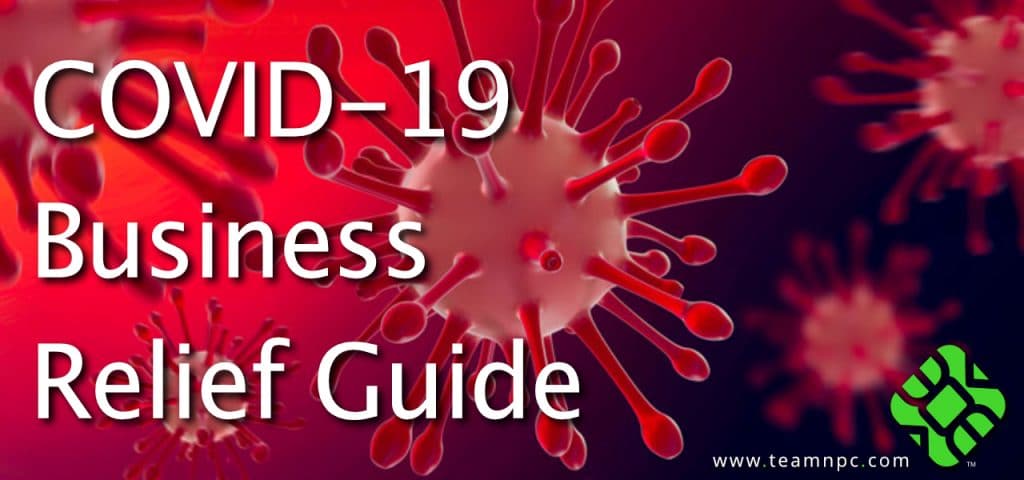 TeamNPC is closely monitoring coronavirus (COVID-19). Along with the advice of leading authorities on how this situation relates to businesses. As new information is released that is beneficial or important to businesses this COVID-19 Relief Guide will be updated.
Being a national company, we are taking all the necessary steps to manage the risks associated with COVID-19 and the actions needed for both our employees and our partners. For this reason, we have begun implementing all reasonable steps to ensure that our services are not affected by this pandemic. As an innovative fin-tech company, both our sales and support teams have the ability to work remotely and will continue to be contactable as usual without disruption.
We remain committed to providing the best possible service and support to our partners and customers during this situation. Utilizing our technologies and capabilities to continue to provide the same level of service expected from TeamNPC.
We will continue to monitor this situation to provide you with the most current information available making updates to this post as new information is released.
Unable to get into the office to process payments?
With so many people now working from home, some business owners will have a problem processing payments. From virtual terminals and mobile apps to e-commerce gateways there are so many options for remote payment processing! Contact TeamNPC for help, the process is simple and can be swiftly implemented for you! Call: 800-455-4577 or Click Here and we will call you!
Small Business Administration – SBA Disaster Relief Loan:
For those businesses affected by COVID-19, apply for a low-interest 30-year loan up to $2 Million from the SBA at 3.75% Click Here for Details
Paycheck Protection Program:
Go to your local bank to apply for a grant in the amount of 250% of your one month's payroll. As long as you use that money to meet payroll, or other employee benefits or to pay your property lease, you will not have to pay the money back!   Click Here for more information on local bank grants. 
Families First Coronavirus Response Act:
Congress is close to finalizing a bill to provide additional COVID-19 Relief to small businesses. Click Here to review the benefits you will receive, possibly including Tax return filing deadline deferment, employer tax breaks, tax credits, and relief. Click Here to follow the status of the bill.
State COVID-19 Relief Guides & Funding Information:
Each state link below will take you directly to the business-specific response to the Coronavirus pandemic, most include valuable information on grants, tax breaks, and health insurance/workers compensation updates for business owners and employees.