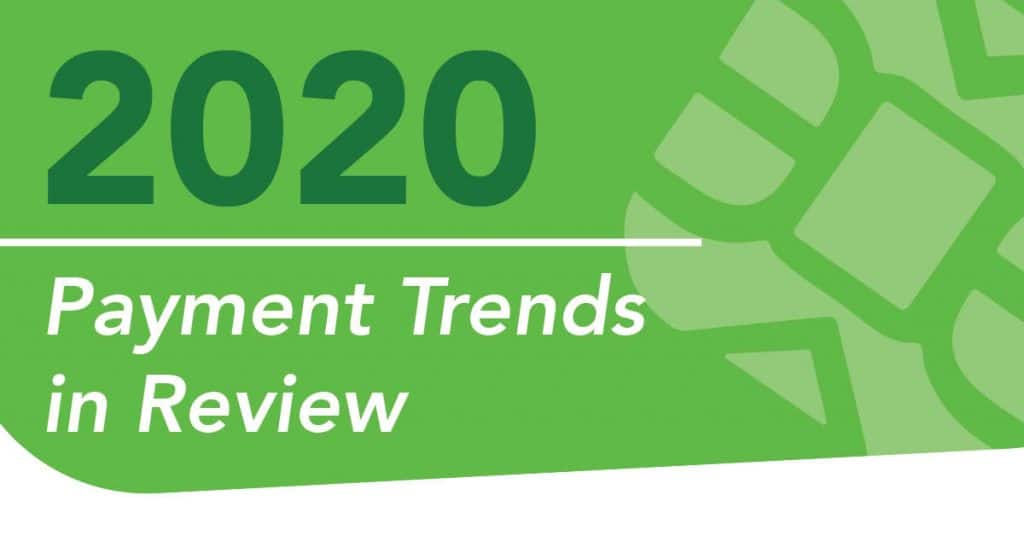 How did 2020 shape up?
2020 was a year of change, and the payment processing world was no different. With national lockdowns and less traffic in brick-and-mortar storefronts, purchasing power shifted. Last year we saw more consumers relying on credit and debit cards to make their purchases. This came with the push for contactless payments and growth in e-commerce. While this meant more processing fees for merchants, more consumers chose debit over credit, which always incurs lower fees. Thanks to such a sudden change in daily life there are several new and existing payment trends that have seen exponential growth. The following trends saw an uptick in 2020 and are sure to grow even more in 2021.
Business-to-Business Payments Evolved
The first of these trends was business-to-business utilizing digital payments in lieu of cash and check. An industry that is notorious for being one step behind may finally be catching up. With accounting staff found working from home, companies had to engineer new ways to transfer money. Electronic payment solutions limited face-to-face contact during a time of caution and opened up new ways to automate routine payments. Now, accounting teams will be able to work from anywhere at any time without fear of missing out on a task.
E-commerce Boomed
In addition to B2B transactions moving virtual, brick-and-mortar stores have also begun to rely more on their e-commerce options. With customers staying at home they need to keep them engaged. Especially with the rise of smartphones, consumers always have a buying opportunity in their hands. Additionally, marketplaces and reselling apps have gained popularity in the past 18 months. This allows individuals to make peer-to-peer purchases with ease. Instagram and Facebook have certainly seen the potential in this, and both apps host shopping integrations that are now built in for every user.
Digital Payments Continued to Gain Hold
Across the board digital payments continue to gain popularity as a method of payment. The COVID-19 pandemic continues to be a driving factor in this as consumers and merchants alike seek touchless payment methods in their stores. Not to mention the growing number of online shoppers and less use of cash. The most common way of digital payment continues to be PayPal, with Venmo and Apple Pay following up at number two and number three. We are sure that in 2021 more consumers will become accustomed to digital payment methods, and merchants will undoubtedly continue to grow in this arena.
Buy-Now, Pay-Later Keeps the Economy Running
The final major trend we have seen in 2020 has been the increased use of buy-now, pay-later (BNPL) at checkout. In a time of financial uncertainty consumers have taken advantage of retailers who provide this option as a way to make bigger purchases that may be outside of their monthly budgets. This is most commonly seen in higher profit margin industries where items are seemingly more expensive. There has been a 300% increase in merchants who have enrolled with a BNPL provider. This has been most popular with the millennial population, who are still wary of credit card debt and repayment.
No matter what happens in the coming year we are sure to see the world of payment processing adapt to the environment. Every step of the way TeamNPC is committed to providing you with the most affordable and up to date services possible. Interested in expanding your payment processing capabilities to keep up with the trends? Contact us to learn how we can cut your costs and increase your revenue.