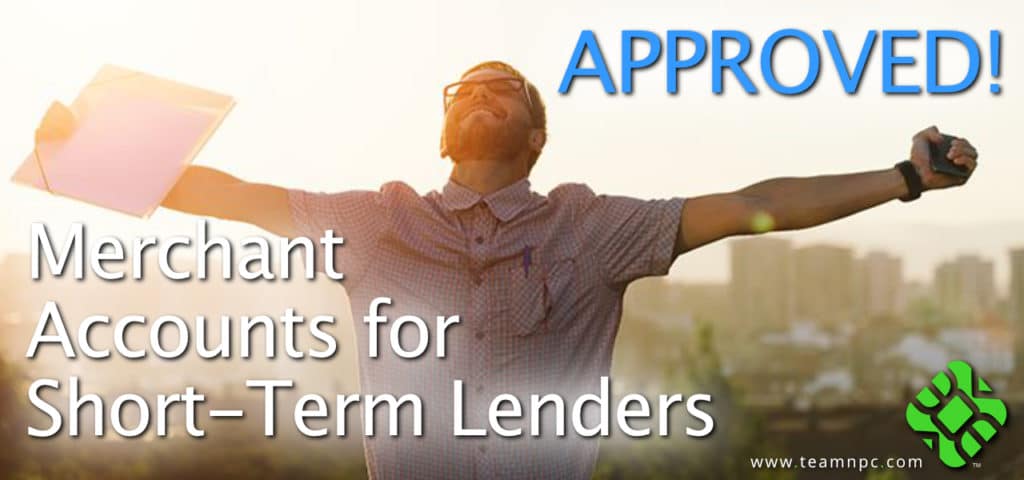 Merchant Accounts for Short-Term Lenders
Almost everyone has heard the phrase 'Cash is King'. While this is still very true in theory, the concept of exchanging actual cash for goods and services is slowly fading away. In fact, a 2018 study of payments conducted by The Federal Reserve reports that 70% of consumers prefer card payments over cash. Perhaps, more shocking is the drastic difference in the amount spent when cash is used over electronic forms of payment.  As shown in the examples below. 
Average Cash Transaction: $22
Average Non-Cash Transaction: $112
This increase in credit and debit card usage makes having the ability to accept electronic payments vital for all businesses. But for Short-Term/Payday lenders, this is even more critical.  However, due to their high-risk status, traditional providers do not provide merchant accounts for Short-Term Lenders.
For more information on what classifies businesses as high-risk, click here.
Short-Term Lender Merchant Accounts – APPROVED!
Traditional Processors and Banks have a very clear vision of what sets high-risk businesses apart from low/normal risk businesses. Along with unwavering guidelines regarding which accounts they will accept and which ones will be rejected. If you have experienced being denied processing services or had your processing account shut down due to your business type, you understand just how frustrating this uphill battle can be. Even when working through processors specializing in the high-risk sector, things can be complicated and occasionally unclear.
This is where National Payment Corporation (TeamNPC) shines! We understand the need for processing recurring payments via credit card, debit card and/or ACH payments is crucial for all Short-Term Loan companies. Instead of relying on traditional banks where high-risk applications are mostly rejected, TeamNPC has developed strong relationships with 3rd party processors. Allowing us to provide merchant account approvals to all high-risk clients. Whether you are a start-up business, have previous processing history, or are currently dealing with a heavy flow of cash, TeamNPC will provide you with a personalized rate program that is based on your business's risk level, as opposed to the risk level of your industry as a whole.
30 Years of Industry Experience
2016 BBB Torch Award for Ethics Winner
Customized Rates – based on your Business Type & Risk-Level
Competitive & Transparent Pricing – Guaranteed!
Simple Application Process
Above Average Approval Rating
Knowledgeable Support Team
PCI SAQ Assistance
Payment Solutions for Short-Term Lenders
Payday Loans
Title Loans
Cash Advances
Secure Payment Gateway & Virtual Terminal
Simple, Easy to Learn & Use Payment Platform
Accept All Credit/Debit Card Types! Visa/MasterCard/Discover/American Express
ACH E-Check Payments
Recurring Billing
With more and more people moving away from using cash for payment, having the ability to accept electronic payments is no longer a suggestion to consider. It is now crucial to the survival and growth of all businesses! Don't let the future of your short-term lending business get derailed by declines from traditional processors. Instead, call TeamNPC and let us help get you back on the road to success with a merchant account for short-term lenders.
Monday – Friday 8am – 5pm EST Call 800-455-4577 or visit us online to learn more about how TeamNPC can help your high-risk lending business!