Managing a business is a lot of work. We get that. Which is why NPC is dedicated to helping you close the bridge between your business and your customer. When we started in the credit card processing industry, things were a lot more black and white. However, over the past 30 years there have been some major changes to the industry. With these changes, our company has changed as well. Instead of a one-size fits all model NPC has evolved to understand a company's needs and develop a processing program that allows them to work within their logistics.
Who We Are
Today we deal with much more than just managing merchant accounts and providing equipment. To us, our relationships matter. NPC strives to prioritize each of our merchants and provide them with the best solutions possible so they can continue serving their customers with ease.
NPC is an ethical, genuine, high service payment processing company located in Northwest Ohio, and we service merchants near and far. Our goal is to provide merchants with the best solutions to optimize their ability to accept payments, as it fits within their business model. NPC's promise is to provide excellent customer support and service to all our merchants. We promise to answer calls within three rings, deliver short hold times, and utilize the dedication of sales and support to develop the best solutions for everyone.
Where We're Going
As we continued to grow and improve our services, we began to realize that our look on the surface didn't match what we wanted to provide our customers. Things felt old and heavy, but we want to provide something more modern, fresh, and innovative.
This brand update has been an eight-month long project, and we've exhausted dozens of ideas and avenues along the way. In the end we set our sights on something that would be simple, timeless, and provide a sense of security for our merchants. Our new brand identity is meant to instill trust, foster relationships, and stand the test of time.
What's Changed
First, we dropped the name, "National Payment Corporation." In the future we will be "NPC," which will be a gradual change. Our "Team NPC" mentality has united our office, and now we want it to unite others. When you call in with an inquiry and hear the phrase "Team NPC," know that we are rooting for YOU as well.
Secondly, our vibrant green has become an energizing blue. This was chosen to be timeless, secure, and calming, but keeping things fun. Merchant services and payment processing shouldn't have to cause stress or worry. We want you to feel secure in your partnership with NPC and know that we have your back.
Finally, we ditched the chip icon for something that represents us, not our industry. Our new icon of three connected "pizza slices," as Brad likes to call them, represents the three parties in our working relationships: the merchant, the customer, and us.
Our merchants are our number one priority, and they function as our direct line of business. We care about their success, and that success depends on how easily and reliably they can accept payments.
Our merchants' customers are the driving force between the relationship we have with our merchants. Without them our merchants wouldn't need us.
Team NPC is the sole provider of payment options that allow these customers to complete transactions with their local businesses. Our services help businesses build these relationships, just like we build relationships with our merchants.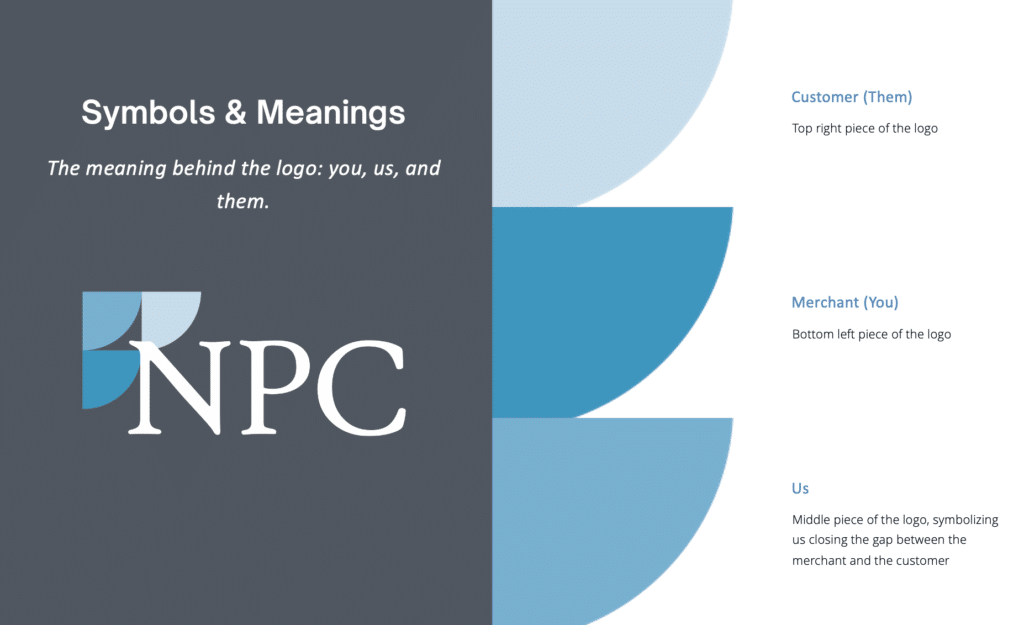 Looking Forward
We remain the same NPC you have always known, and hopefully even better. Our ownership remains the same, our policies remain the same, and our team motto remains the same. Most importantly, our commitment to our merchants remains the same.
As we begin this next phase in our NPC history our team is excited to see what lies ahead. We are growing, and the industry is constantly improving. We expect the next several years to be full of improvements, opportunities, celebrations, and success.
NPC wouldn't be us without you, so help us celebrate that.