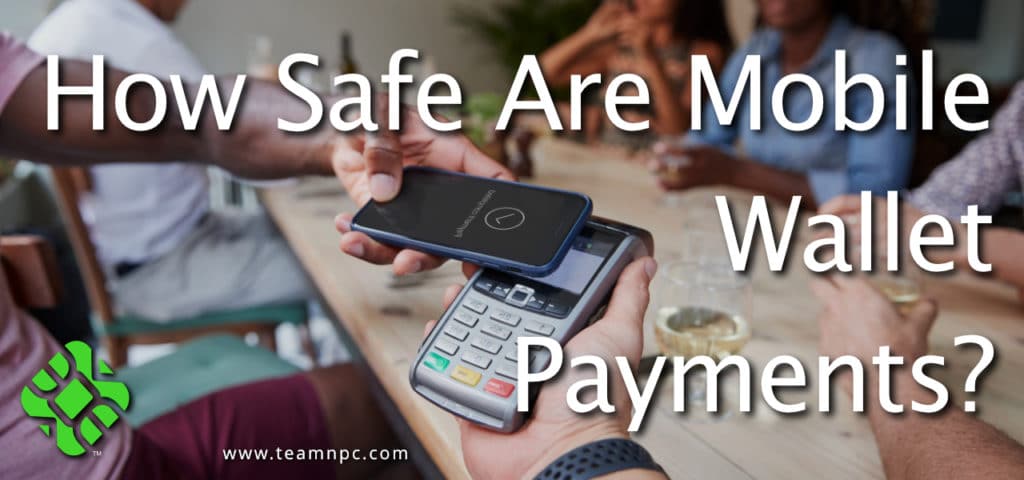 Mobile Wallet Payments, also known as NFC Payments (Near Field Communication) are becoming more and more prevalent in the retail world. Despite the popularity of this new payment type, many consumers are still wondering just how safe are mobile wallet payments? Most are surprised to hear that not only are Mobile Wallet Payments secure; Mobile Wallet Payments are Safer than Traditional Methods!
Why Mobile Wallet Payments are Safer than Traditional Methods:
The security of mobile wallet payments is due to the way card data is stored & subsequently sent to merchants. The first time you link your credit/debit card to your mobile wallet a digital account number (token) is generated. From that moment on your mobile wallet will only store and send this token to merchants to complete purchases. Keeping your actual 16 digit credit card number safe from hacker interception.
What if happens to my Token if my Device Stolen?
The token on its own cannot do anything, fraudsters who have obtained a specific token cannot complete any purchases without the additional authenticators required by the mobile wallet. Apple Pay, for example, requires users to use fingerprint for Touch ID or to enter their Apple ID to complete a purchase.
What if your mobile wallet device is stolen?!
We have all been there, the moment when we cannot locate our purse/wallet; kickstarting the panicked process of tearing apart our home/office/cars while also waiting on hold with our bank or card provider to report the card missing. The best part of the Mobile Wallet technology is what happens if your device is stolen! Since your mobile wallet never stores your full account details, there is nothing to panic about. Just log in to your account from any device to deactivate your specific token.
Want to get details on how you can accept Mobile Wallet Payments in your business?    Contact TeamNPC Today for details! 800-455-4577 [email protected]