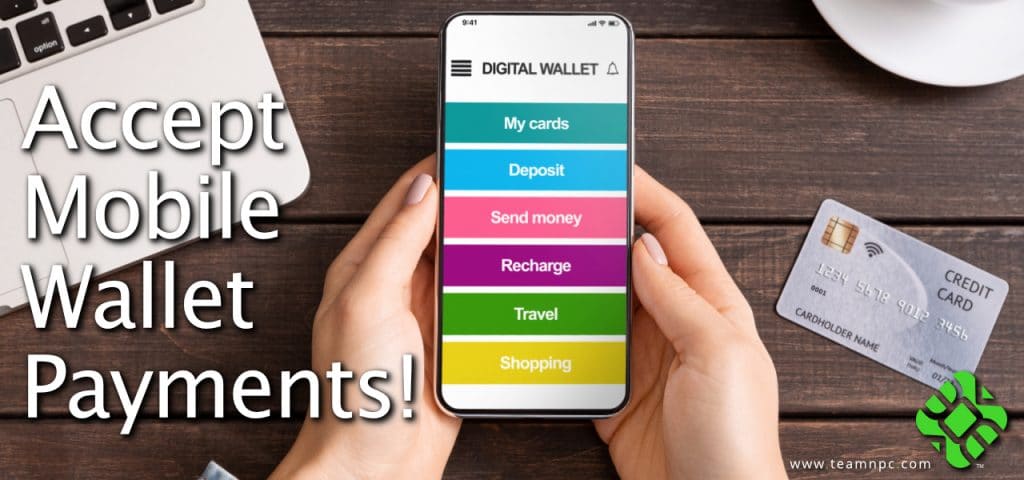 Apple has finally released its highly anticipated mobile payment application, known as Apple Pay, and it has become the fastest-growing mobile payment application in the world. More and more people are beginning to store their payment on their smartphone, choosing to leave their plastic at home and use their 'mobile-wallet' instead. Apple Pay is not the only player in this game, many others including Google Pay, Venmo, Zelle, even PayPal have released their own mobile wallet applications.
Mobile Wallets – Designed For Ease
Mobile payment applications are designed to make checking out at your favorite store easy and secure. What this means for businesses is that the nature of business transactions, at cash registers and point of sale systems across the nation, will need to change as well. In order to accept mobile wallet payments, your current terminal should be NFC equipped. NFC or near-field communication refers to the way the data will be passed. While similar to Bluetooth, NFC requires the proximity between the mobile-wallet and the payment terminal to be much closer than with a standard Bluetooth connection. Which helps to create a more secure environment for processing the transaction.
Apple currently processes more credit cards than Amazon! As technology continues to grow, the number of consumers switching from traditional credit cards to mobile wallets like Apple Pay will only increase. Though this new technology means an added layer of convenience for your customers, it can create a headache for businesses who are unequipped to handle new ways to complete transactions, leaving you with dissatisfied customers and potentially lost sales. Thankfully, TeamNPC has the tools you need to accept all mobile wallet payments.
Accept Mobile Wallet Payments – Is Your Business Ready?
TeamNPC can augment your current system to be able to communicate with Apple Pay and similar programs, with hardware add-ons and easy to understand software, or we can build it into one of our fully customizable electronic point-of-sale systems. Ensuring that no matter which mobile payment applications your customers are using, you can accept it, worry-free.
Let TeamNPC keep your business up-to-date and as close to the cutting edge of mobile payment technology as you want to be! Call 800-455-4577 Today or Click Here to have a team member call you! Don't lose dollars or customers that you don't have to, TeamNPC will make sure you are ready to accept mobile wallet payments in all of your locations today.