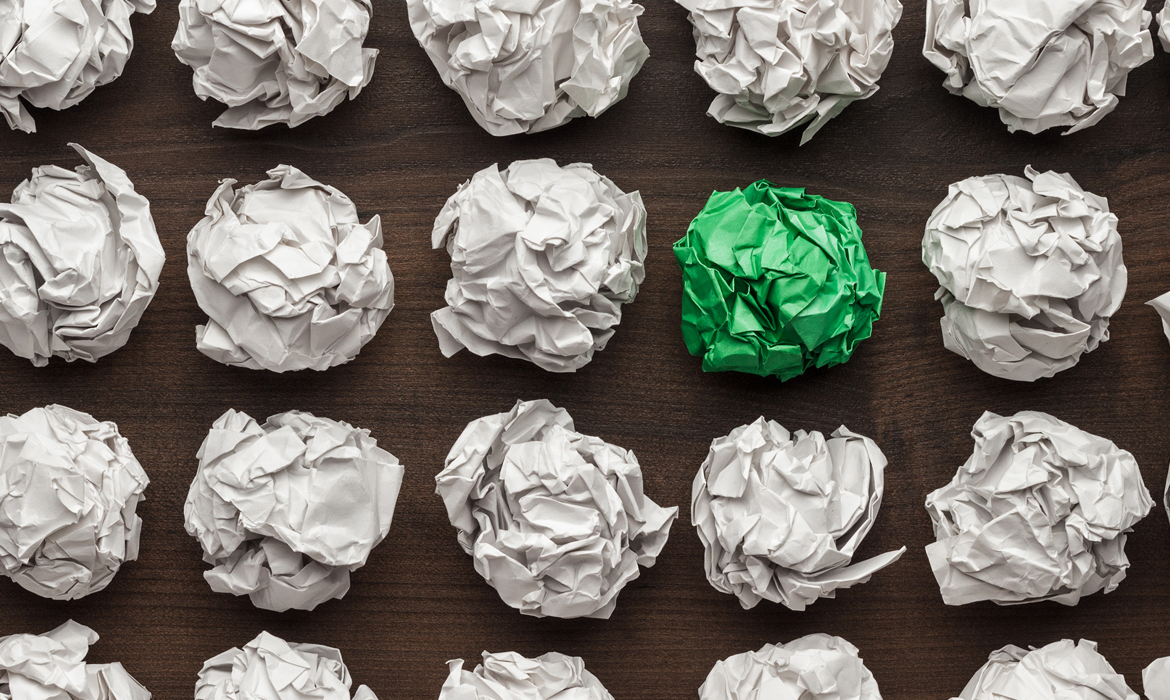 Why TeamNPC
Discover What TeamNPC Could Be Doing For You
Founded in Toledo, Ohio as a merchant services provider for local businesses, National Payment Corporation is now home to one of the most experienced merchant services and credit card processing support teams in the Midwest. With decades of experience providing Ohio and Michigan based businesses with expert customer support, promoting the newest credit card technology and providing competitive rates for all our merchant services, National Payment Corporation is redefining what a merchant service partner can mean for your business every day.
What Makes Us Different
What sets National Payment Corporation apart from the rest of the industry is what makes us such a valuable business partner. Things like our No Hidden Fees policy, our extensive knowledge of credit processing changes and regulations, our insistence on implementing change before it is required, and our desire to know your company and industry as well as we know ours. National Payment Corporation rapidly grew from our Toledo, Ohio merchant services roots to help businesses across the entire Midwest, and we now are the preferred merchant services provider for customers across the United States.
Localized Focus With a National Reach
National Payment Corporation has taken our Toledo model for merchant services solutions and taken it national, providing credit processing and merchant solutions far beyond the competition. By replicating our localized focus with representatives across the country, and teaming it with our expert team of customer service providers, we've been able to deliver exceptional service and impressive processing rates to businesses across America. Find out what made National Payment Corporation the merchant services leader in the Toledo area, and how we can help your business continue to grow it's profitability.
Find out why 84% of our current customers have switched to us from other credit card processors and merchant service providers.
National Payment Corporation offers:
The most comprehensive choice in credit card networks
Major credit card, check, gift/loyalty card, and specialty card processing
Downloads with more diverse tracking features
The most complete, all-in-one solution to your payment processing needs
Competitive rates for all major credit cards and debit cards
Monthly diagnostic reports
Unsurpassed customer service
Simplified conversion program
Forerunner in PCI Compliance and fraud monitoring for our clients
Loyal partners in merchant services solutions
National Payment Corporation has been providing our Toledo clients with the best in merchant services and credit card processing for over two decades. We've taken our package nationwide, and now work with client's across the country helping them lay the foundations for future financial growth. Call us today to learn more about our merchant services and credit card processing programs, and how they can make a difference to both your business and your customers. Don't continue to partner with merchant service providers who see you as an account, not a partner. Call Team NPC today.
Top Ten Reasons to Choose NPC as Your Merchant Services Provider
1. Most Experienced Merchant Services Team in the Midwest
NPC has collected a team with over six decades of combined experience, processing tens of millions of dollars of credit card payments for clients across the country every year. We work with business' from one to one thousand employees, and take pride in providing solutions tailor made to fit your needs and your customers' wants.
2. The Newest Technology, and the Support You Need to Make It Work
NPC has been on the cutting edge of credit card processing technology, moving our clients in the direction of mobile payment processing and EMV chip readers long before the rest of the industry. More important than new technology is the ability to use it, and our 24/7 technical support service will get you up and running on the new system in no time.
3. We Bridge the Gap Between your Online and Offline Business Seamlessly
Using our online payment portal capabilities and our traditional top of the line Point-of-Sale systems, we can get your online and offline to sync up automatically. One set of books, one point of contact and only one account to worry about, that handles all of your needs on and offline. We also provide value added services such as gift cards, loyalty cards, online processing, etc so your customers have convenience without giving your more headaches.
4. Outstanding Ratings from the Chamber of Commerce and BBB
Credit card processors have earned a reputation by burying fees, hiding the real costs and passing those costs onto their customers. Not NPC. We keep everything above board with our 100% transparency guarantee, and have earned outstanding ratings by business watchdogs for doing business the right way, and putting our customers first and foremost.
5. We Put the Service Back in Merchant Services
NPC understands that what every business owner needs is a partner, someone as invested in your financial success as they are in their own. With our friendly, hands-on approach and our willingness to go the extra mile to keep your business operations running smoothly, we've earned the trust and respect of each and every one of our clients.
6. Big Market Expertise put to Work for Small Business Owners
National Payment Corporation specializes in providing tailor made solutions for credit card processing and payment acceptance for businesses of all sizes. Whether you're doing a thousand transactions a year or a day, our goal is to provide you with exceptional support and customer service and to keep your customers happy and transactions running smoothly.
7. True 24/7 Customer Service, with as Little Downtime as Possible
All of NPC's equipment and services are backed by 24-hour customer service and technical support, to resolve any critical issues you may have. Our goal is to limit downtime as much as possible for your store, and we will do everything possible to get your point of sale systems up and running again as quickly as possible.
8. No Hidden Fees, No Surprise Charges, and No Hassle Ever
Credit card payment processing can be a dark hole for some businesses, not knowing the rates they're being charged or why those charges are happening. At NPC, or goal is to keep cost structure simple and easy to explain, and our rates as competitive in the market as possible. If you have any questions about a bill or charge on your merchant services account, call us for an answer without hesitation.
9. Accountability, Transparency and Reliability you can Count On
NPC understands that you have to put a tremendous amount of faith into your merchant services provider. It's our job to make sure that your money gets where it's supposed to: your hands. Our commitment to every customer includes 100% transparency, so you know where your money is going and exactly what processing fees are being charged.
10. We Care as Much About Your Success as We Do About Our Own
Being a partner of NPC means much more than signing a contract and seeing your money come rolling in. Our goal is to put you into a position to be financially successful, and to provide you the tools and path to achieve that success. We take a proactive approach, suggesting options and technology that can save you time and money in the long run. All part of what makes NPC the ideal Merchant Services provider and partner for your business.
NPC Service Difference
Putting the service back in Merchant Services.
1099-K Fees: Many processors are charging a $5.00 per month fee up to $100 annually for this.
We think the 1099-K Fee should be FREE!
This year, credit card processing companies as well as third-party network payments such as PayPal, Amazon.com and Google are required to report to merchants and to the Internal Revenue Service the gross amount of the transactions they've processed. This is due to the federal Housing Assistance Tax Act of 2008 which included the enactment of Section 6050W of the Internal Revenue Code. This federal regulation will be used to help the IRS identify under-reported payment made to merchants by credit and debit card.
The credit card processor is required to monitor your processing volume during the year and submit to the IRS the 1099-K that includes your gross sales for the year as well as a breakdown for each month. Many processors are charging a fee for this, we have seen anywhere from $4.95-$20.00 per month to $100.00 or more annually! Many processors are calling this a Regulatory Fee as the IRS made it illegal to charge directly for the 1099-K.
Your processor is required to send to you a 1099-K form by February, 15th and report your gross processing volume to the IRS by February, 28th.
What do you need to do?
The IRS requires that you report your gross credit card sales and net processed for tax collection purposes. Reconciling your gross sales (which is the figure reported to the IRS) to net sales (the net amount funded to your account) may be difficult. This site and our knowledgeable staff are here to help. We also need you to verify that we have your correct TIN (Tax Identification Number) and Legal Name for your business in our file through one of the following methods:
Reviewing your tax records (including your SS-4, IRS peel-off tax label, various tax returns)
Verify information with your accountant or tax advisor
Contact the IRS directly at 1-800-829-3676 and request Form 147-C
Call us to verify the data we are placing on your 1099-K is accurate.
NPC has created a program called R.A.A.P. or the Regulatory Accounting Assistance Program to make 1099-K reporting a breeze. It reports your gross and net processing volume, the two major components to complete your 1099-K form. Determining the gross vs net volume can be an accounting challenge for many merchants and their tax preparers, for example, if you issue refunds, returns or have had any chargebacks, the gross amount reported on your 1099-K will differ from the net volume deposited to you. The design of our Regulatory Accounting Assistance Program is to simplify the process of completing your 1099-K form and ensure you don't make any mistakes. Mistakes can result in an IRS audit or possibly withholdings of 28% of your future credit card processing volume.
R.A.A.P. Program Features
Update data on your W-9:
Name, business name, address, TIN – Taxpayer Identification Number
1099-K Gross to Net Reconciliation Report
Offers Gross sales and Net 'Profit' from including deductions and expenses
Detail of reported amounts
Actual figures reported to the IRS (NO MISTAKES!)
Details amounts by card type, explains any differences and traces them to the statement
Final 1099-K
Access previous 1099-K reports for three prior years
Allow access to the site for your tax preparer
EZ Approval Process With National Payment Corporation, it IS that Easy!
With National Payment Corporation, you do not need to cough up every business document you have to get approved to accept credit cards. We won't force you to take pictures of your inventory either! If you have a retail business, you will simply need to supply us with your business address, some basic personal information, and a voided business check. We can have your account approved within 24 hours! The application process itself just takes a few moments. If you are applying for a MO/TO or Online account, the application process is the same, we may request some additional info if your volume is extra-ordinary. Call National Payment Corporation today to find out how easy we will make this for you!
Already accepting credit cards? Call National Payment Corporation today to learn why 84% of our current client base was originally set up with another processor! A National Payment Corporation specialist will provide you with a more competitive rate plan, describe our exception service and technical support, and begin your seamless and easy transfer to National Payment Corporation!
Cash Advance Faster, Better, Smarter, and Easier!
The Smart Choice for Immediate Working Capital
Cash Advances from $2,500 – $150,000
Unexpectedly need some cash for your business? Time to launch a new product but you don't have the funds to support it? Does your store need renovations or maybe you are ready to take your business to the next level? National Payment Corporation has the answer. We can get you the cash you need, NOW! The money can be paid back over time using your credit card transactions. Call a National Payment Corporation representative to learn more right now!
FASTER
Pre-approval Within 24 Hours
Cash Within 7 Working Days
BETTER
No Personal Guarantee for Repayment
No Collateral
No Liens
No Application Fees
No Points
No Fixed Monthly Payment
SMARTER
Improved Cash Flow – Repayment is Through a Percentage of Your Future VISA/MasterCard Receipts You Pay Us Only When You Make a SaleDoes Not Affect Your Ability to Qualify for Other FinancingUse the Cash Advance for Any Business PurposeState-of-the-Art Processing Systems Maximize Transaction Security.
EASIER
Apply in Less Than 10 Minutes! Over 90% Approval Rate
Honesty… Integrity… Customer Service
Merchant Assurance Policy
National Payment Corporation is COMMITTED to providing you, our customer, with honest merchant processing at very competitive rates. We understand the industry as well as some of the antics companies may use to promote their products. Have you ever been told a very low rate plan while the 'other' fees were left out. Things like a monthly minimum or batch fee? The fees that are 'left out' are often the ones that will cost you the most money each month. Don't get pick-pocketed, be thorough. At National Payment Corporation, we have a No Hidden Fees Policy that assures every client that we explain each program in its entirety. No surprises, just honest and up front plans.
Once you have chosen to set your account up with National Payment Corporation, we will extend our Merchant Assurance Policy to you. It states that if you are approached by another provider with a deal that sounds too good to be true (like a free credit card machine!), we will give you $100.00 if our program can't meet or beat it! To take a look at the details of this offer, click here.
Many providers will dance around a program and focus on one rate, the lowest one they can offer you. What you really need is the whole picture. When you bought your last car, I am sure you negotiated a number of things, the price of the car, the term of payments, the interest rate, warranties, etc. You would never purchase a car on just an interest rate alone! The reason of course is that there are more factors needed than just the rate to determine your loan payment. The Merchant Service industry is no different. When the next sales rep smiles and says, I can save you money! Think twice, get all of the paperwork and fax it to us. We will provide you with a side by side based on your actual processing. Let us do the work for you, then show it to you in black and white.
Our goal in all of this is to simply prove to every one of our clients that we provide the most up front and honest credit card processing at the most competitive prices available. It is our hope that you take the time to discuss a program with one of our experienced account representatives or take advantage of the information available in this site. We want your business, today and for years to come!
Access / Convenient Payment
Eliminates Paying the Discount Rate for approved Businesses!
MasterCard and Visa each have a program that was developed to eliminate some of the processing fees for pre-certified businesses. These businesses range from governments, education entities, and other emerging markets. With MasterCard and Visa's approval for this program, your business will save a substantial amount of money by eliminating the discount rate your currently, or would have, paid.
To set up with this program, your business must enroll using the NPC Secure software program. This Access/Convenient Payment will be charged as a second transaction back to the cardholder to cover interchange, assessments, and any other processing fees. Your business will not pay interchange, dues, assessments, or any other fees on that particular transaction.
MasterCard and Visa approve select business types with the ability to use the Access/Convenient Payment based on their SIC code and products or services for sale. If you would like to begin using this program, NPC will correspond directly with MasterCard and Visa on your behalf.
This program cannot be confused with a surcharge. A surcharge is any fee charged in connection with a credit card transaction that is not charged if another payment method is used. The Access/ Convenient Payment is a fee charged to justify particular business cases that provide ease and expediency of payment. Your business should have the ability to participate in the program and be permitted to assess a convenient payment provided that the conditions set out below are satisfied.
Visa's guidelines state:
The Fee is being charged for bona fide convenience of using an alternate payment channel outside of the Merchant's normal business practice.
The Fee:
Must be disclosed to customers as a charge for alternate payment channel convenience
Is applied only to face-to-face transactions
Must be a flat or fixed amount regardless of the amount of payment due
Is included as part of the total transaction
Cannot be added to recurring transactions
Is assessed by the merchant that provides goods and services to the cardholder and not by a third party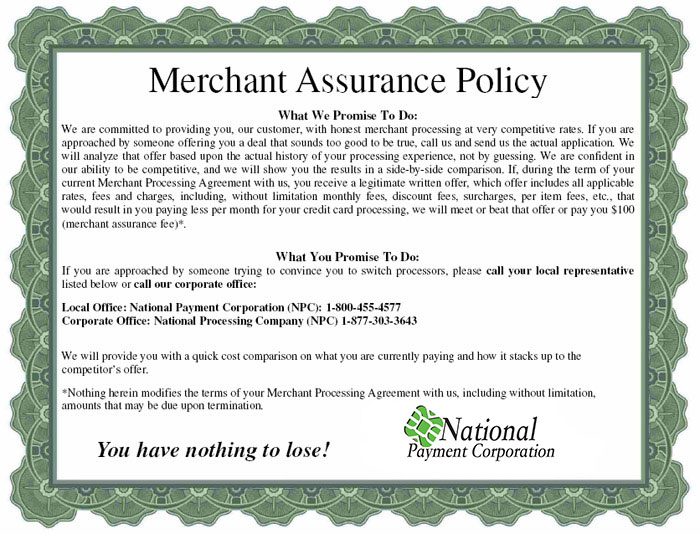 In the News
See what NPC is doing for businesses in our community.
CREDIT CARD PROCESS AND DATA SECURITY
EMV CREDIT CARD PROCESSING
ARE YOU EMV CREDIT CARD READY?
AWRCC INTERVIEW WITH MIKE WILSON
MERCURY CREDIT CARD SECURITY